A very strange thing has happened since the whole social distancing and isolation means we are spending more time at home – I have started to enjoy fussy cutting! I know….send help now….it could be a slippery slope!
I needed to make a birthday card and I knew I wanted to use the Birthday Bonanza DSP – those animals are just so cute. Although you can cut the images from the paper using the dies from the same suite, I wanted them with the balloons and part hats so I decided I would fussy cut them.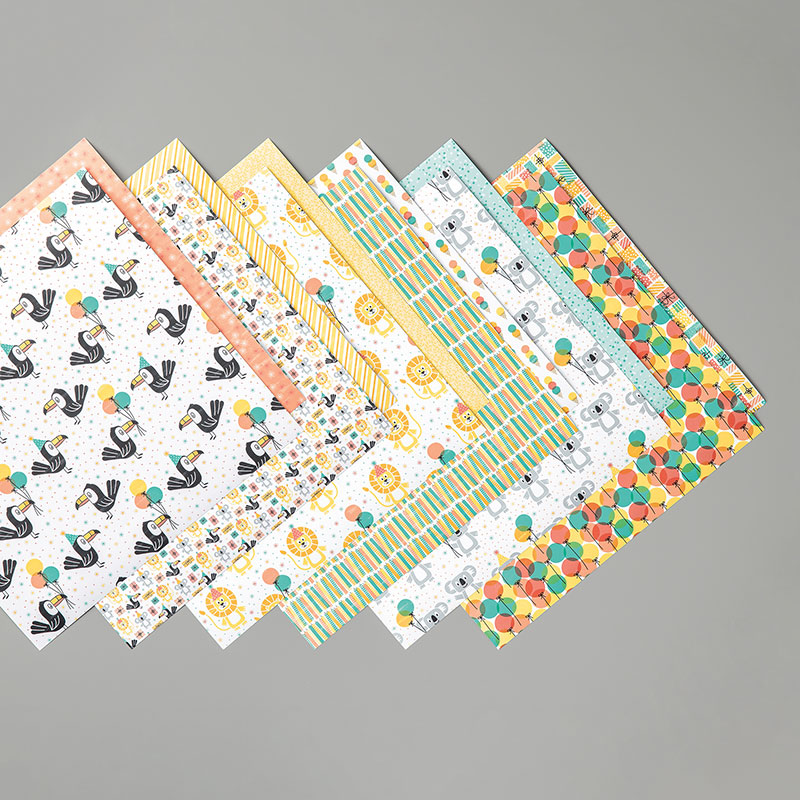 At the same time as needing this birthday card, I also signed up to join in a card kit swap challenge. The idea is that I make up card kits containing everything needed to make 4 cards and send them to someone else. In return I receive a card kit in the mail. There is one rule though when making card kits – it is against Stampin' Up! policy to give out stamped images as part of a kit. So the card I had in mind was perfect for this kit swap, as you can include DSP. So in essence I can send images cut from the DSP, just not stamped ones.
The background paper is from the same Birthday Bonanza suite. I used one of the Delicate Lace Dies along the edges of a strip of coloured card in a coordinating colour (in this case Terracotta Tile) and also added an additional Pumpkin Pie layer.
The Happy Birthday sentiment comes from the Bonanza Buddies stamp set and is on a panel cut from the Stitched So Sweetly dies. The cute little Koalas were added with some dimensionals, and the card was ready to go.
One bonus tip for you – when you cut out the edges using the Delicate Lace dies, you are left with a strip that makes the perfect bit of bunting decoration for the inside of your card – waste not want not right 🙂
When I sent this card in the card kit as part of our swap, I simply sent all the pieces required, plus the blank sentiment panel. This allows the recipient to use whatever stamp sets they have to finish the card. I used some different colours and different animal cut outs, but the layout is the same.
I hope you have enjoyed this card today, drop me a comment below to let me know – I love reading the comments!